Looking for a unique healthy breakfast that doesn't include cereal, sugar or toast? I created these yummy Pepped-up Sweet Potato Pancakes one day when I had some leftover baked sweet potatoes and I felt like something more substantial for breakfast than eggs on their own but I didn't want to indulge in the empty calories of toast to fill me up. They are colorful, gluten-free and easy to make. I hope you enjoy them.
This recipe makes 2 servings
Ingredients for Pepped-up Sweet Potato Pancakes
1 medium baked sweet potato, skin on (I usually bake several sweet potatoes at a time and have them ready to use in the refrigerator)
3 whole eggs
2 tablespoons almond meal (you can make this yourself by popping almonds into a blender and pulsing them until they look like course flour)
2 tablespoons crumbled feta cheese (I used light feta from Trader Joe's but any good feta will do)
A couple of handfuls of arugula (rocket lettuce)
Method
Crack the eggs into a bowl and beat them with a fork, add the almond meal then chop the sweet potato and mash it into the egg mix. Stir until everything is well combined. Stir in the feta and arugula.
Heat a frying pan to a medium heat (not too hot or your pancakes will burn), use a little olive oil or a smear of butter then spoon in the sweet potato pancake batter to create cakes about 4 inches in diameter (too large and they are difficult to flip). Flip them once they are firm on the bottom and make sure they cook on both sides.
Serve with a little low fat Greek yogurt, season as you see fit. Delicious!
Here's the back story of how I came up with my Super Powered Raw Oatmeal recently.
While on a quest to go sugar-free and wheat-free I faced the problem of what to eat for a fast breakfast that didn't include bread of any kind. I wanted something healthy, organic, and preferably uncooked. I also wanted a healthy balance of protein, fiber, carbs and fats. The other very important factor; it had to be fast food. Fast food in terms of taking very little time to prepare, because we usually have about ten minutes to eat in the mornings.
I found what I was looking for:
Super Powered Raw Oatmeal
This recipe makes 8 servings so you only have to put it together once, then store it in the refrigerator for use at breakfast time throughout the week.
Ingredients
2 cups organic steel cut oats
2 cups organic light coconut milk
1 tablespoon organic chia seeds
1 teaspoon vanilla essence
1 teaspoon ground nutmeg
1 teaspoon ground ginger
Toppings:
1/8 cup dried cranberries
1 scoop whey powder, or other protein powder depending on your preferences (I use Standard Process Whey protein Complete). You could substitute this for 1/2 cup of almond, hemp, rice or other milk
1/8 cup raw almonds
Method
Make the super powered raw oatmeal the night before you need it. Put all of the ingredients (not including the toppings) in a glass container and mix well. You want to make sure the spices are well distributed. Put a lid on the container (the snap-lock containers work really well for this) and pop it in the fridge.
In the morning, use a butter knife and divide the super powered raw oatmeal into 8 equal servings and then spoon out your serving. Add the toppings (you can get inventive here, these are just my suggestions) and enjoy your healthy fast food breakfast.
Total Calories
With protein powder it is about 230 calories. With almond milk instead of protein powder it is about 220 calories. Not only healthy, but low in calories as well.
A few weekends ago I was at a dinner party thrown by our friend Shei Lu. It was a lot of fun, not only because of the great company, but also because Shie Lu had us help her in the kitchen.
That night I learned how to make two new dishes. One, fresh spring rolls, a healthy appetizer. The other, (chocolate ganache), not as healthy although it's super delicious and a great accompaniment to raw strawberries (which are very healthy).
Great For Bodybuilders and Dieters
Each spring roll nets you about 60 calories so they are great if you're trying to lose fat. Bodybuilders out there could substitute a couple of these for rice as a taste treat to break up the monotony. You'd probably want to skip the sauce as it does contain sugar and go easy on the sesame oil and soy sauce in the vermicelli noodles.
Low Calorie Spring Roll Recipe
Here's the recipe for spring rolls (I added tofu but you could make it with vegetables alone (which is how we made it with Shei Lu) or you could replace the tofu with cooked and peeled shrimp (or prawns for the Aussies out there).
INGREDIENTS:
1 package of clear edible rice paper (I found a good supply at my local Korean market)
1 package of firm tofu (I used the Trader Joe's organic sprouted tofu) cut into rectangles about the size of a little finger
1 bunch of fresh cilantro (or coriander for the Australians) finely chopped
2 cucumbers sliced into straws (julienne)
1 large carrot sliced like the cucumbers
1 mango peeled, de-seeded and sliced like the cucumbers
1 package of vermicelli rice noodles cooked according to package directions, drained and cooled
a splash of sesame oil
a splash of soy sauce
INGREDIENTS FOR THE SAUCE:
1/4 cup rice vinegar
1/4 cup sugar
finely sliced chili
diced garlic and coriander
DIRECTIONS:
1. Add a splash each of soy sauce and sesame oil to the cooked and drained rice vermicelli noodles, toss until noodles are all covered evenly and set aside
2. Dip a round of rice paper into a flat pan of clean water. Let it soak until it's soft then with both hands carefully lay it on a clean surface
3. On one edge, lay some chopped cilantro then place a rectangle of tofu (or some shrimp) and some carrot, cucumber and mango then the vermicelli noodles on top
4. Roll the rice paper wrapper, tucking in the sides until you have a neat package that doesn't fall apart. Lay it on a serving dish
5. Continue with this until you have used your ingredients. If you have left overs, cover and refrigerate to make more spring rolls later.
FOR THE SAUCE:
Put the rice vinegar into a bowl along with the sugar. Beat until the sugar is fully dissolved then add the chili, garlic and cilantro
Serve the spring rolls with the sauce to dip. Don't expect to store left-overs as they tend to go hard in the refrigerator. They really are best freshly made.
For added fun, have your guests help with making their spring rolls.
I hope you enjoy them as much as we did.
If you enjoyed this article, get email updates (it's free).
My daughter did a college nutrition course a couple of years ago and was told, as I was twenty-four years earlier, that if you have a healthy well-balanced diet you don't need extra vitamins and minerals.
We work hard to keep our food as fresh as possible and as organic as possible (the nutrition professor also told our daughter that it doesn't matter whether your food is organic or not but we disagree; who needs extra pesticide in their bodies?). We also take supplemental vitamins and minerals. If what we are taught about the nutritional value of food in school is true, why do we bother?
Here is some data from the United States Department of Agriculture (USDA) showing the difference in nutritional value of some fruits and vegetables since 1975 that might explain why I choose to take supplements:
Apples: Vitamin A is down 41%
Sweet peppers: Vitamin C is down 31%
Watercress: Iron is down 88%
Broccoli: Calcium and vitamin A are down 50%
Cauliflower: Vitamin C is down 45%; vitamin B1 is down 48%, and vitamin B2 is down 47%
Collard greens: Magnesium is down 85%
Do I really need my supplements? Yes, I believe I do.
Thanks to Tom Grimshaw for sharing the stats from the USDA in his weekly newsletter.
If you enjoyed this article, get email updates (it's free).
Who doesn't like brownies? I LOVE them, but rarely eat them because they are usually packed with sugar and are way too fatty. That was before, now I have a brownie treat nearly every day and I'm going to share my secret with you because these little beauties are just too good to keep to myself.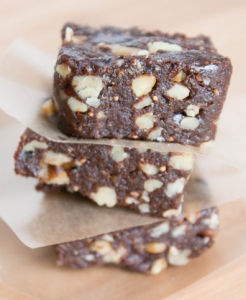 First, let me say, this recipe has no added sugar and no added fat! It's also really easy to make, taking about 15 minutes to whip together.
These brownies are packed with antioxidants and fiber. They have potassium and iron, vitamin E and omega 3 fatty acids (the healthy fats).
The recipe makes about 12 servings, each giving about 175 calories of energy and a giant mouthful of flavor.
You will need a food processor.
INGREDIENTS:
2 cups of raw walnuts
16 pitted dates (I get the the medjool dates)
1/2 cup Dutch cocoa powder (or, better yet, raw cacao powder)
1/4 cup raw cacao nibs (optional, the brownies taste great without but these add a powerful antioxidant blast)
METHOD:
Put all ingredients into the food processor in the order listed. Mix them together then press the mix firmly into a tray, cover and refrigerate for about an hour.
Cut into 12 equal pieces and enjoy with a nice cup of tea or coffee (I love rooibos tea as a caffein-free alternative).
You can keep them refrigerated for a week or so (they usually don't last any longer than that in our house). I hope you like them as much as I do.
If you enjoyed this article, get email updates (it's free).
The Value of Exercise
Here's some pretty awesome scientific information on the value of exercise, not just for maintaining a healthier body but also a healthier mind.
Depression is apparently on the rise (if you believe the media and associated  pharmaceutical marketing campaigns) and the go-to treatment is ordinarily to medicate using drugs like Bupropian, Citalopram or Duloxetine – drugs that have serious side-effects including anxiety, shaking, severe headaches, seizures, severe skin reactions, jaundice, high fevers, blood pressure fluctuations, cardiac arrhythmia, and even sudden death.
In scientific studies conducted between 1999 and 2009 comparing groups of people who regularly exercise with those who were medicated using the current medication procedures, the effectiveness of exercise in overcoming depressive symptoms was found to be as effective as medication.
That's a big statement.
What's more, people who continue to exercise regularly have lower rates of depressive relapse in the future than people using medication.
How Much Exercise Kills Depression?
Even modest levels of exercise are beneficial. Three sessions per week of 30 to 45 minutes per session is sufficient (according to these studies) to reduce depression and 90 minutes a week is sufficient to reduce the risk of relapse.
Most of the studies focused on aerobic exercise (running, walking, swimming, dancing, skipping, anything that will raise the heart rate and can be done for an extended period of time) up to 30 or 45 minutes at a time. Several also found evidence that resistance training (using free weights, machines, body weight, bands and so on) is also beneficial.
So, if you're feeling down, save yourself some money and a lot of life-threatening side-effects and start exercising – it's way healthier than putting artificial and potentially dangerous chemicals into your body.
Join a gym, hire a good trainer, take some exercise classes, start taking the dog or your kids for walks. Whatever it takes to get you moving and active for at least 90 minutes a week (that's about as long as most people spend watching TV in one night).
References:
Blumenthal JA, Babyak MA, Moore KA, Craighead WE, Herman S, Khatri P, et al. Effects of exercise training on older patients with major depression. Ach. Intern Med. 1999;159(19):2349-56.
Drum AL, Trivedi MH, Kampert JB, Clark GC, Chambliss HO. Exercise treatment for depression: efficacy and dose response. Am J Prev Med. 2005:28(1):1-8.
Mead GE, Morely W, Campbell P, Greig CA, McMurdo M, Lawler DA. Exercise for depression. Cochrane Database Syst Rev. 2009(3):CD004366.
If you enjoyed this article, get email updates (it's free).
Whenever I am asked to bring a dish to a party or gathering I always bring my kale salad. It's become quite well-known in various parts of Los Angeles and I have people asking for the recipe every time they try it because it not only looks fabulous, it tastes amazing! So amazing that most people want second helpings.
Here's a dish that is as good for you as it looks and tastes. One you can pig out on to your heart's content and never feel guilty.
Tracey's Terrific Kale Salad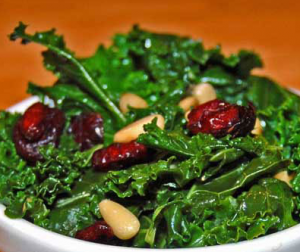 SALAD INGREDIENTS:
1 bunch of fresh, organic kale. Remove the stems then clean  and slice
1/3 cup of dried cranberries
1/3 cup of toasted pumpkin or sunflower seeds or toasted pine nuts
2 organic Roma tomatoes cut into wedges
DRESSING INGREDIENTS:
1/8 cup good olive oil
1/8 cup organic cider vinegar
1 teaspoon honey
Salt and pepper to taste
METHOD:
Put the salad ingredients into a salad bowl. Put the dressing ingredients into a bottle and shake vigorously to blend.  Add the dressing to the salad at least a hour before serving (this is one salad that gets better the longer you leave the dressing on it) then toss to combine everything.
Serve it up and watch as everyone happily gobbles it up then asks for the recipe (send them to our website to save yourself the trouble of writing it down).
If you enjoyed this article, get email updates (it's free).
Are You Marinating In Your Own Waste?
This past weekend we were at a seminar delivered by Dan Owen, an outspoken adventurer and proponent of regular exercise. He made a point about the importance of exercise in helping the lymphatic system remove wastes that went something like this – if you don't exercise regularly you're basically swimming in your own toilet. Blunt, descriptive and on-the-mark.
People mostly think they should exercise to lose weight or to enhance the health of their cardiovascular system (heart, lungs, arteries, veins and so on). They rarely think about exercise in context with removing waste from their bodies, and yet a quick study of the lymphatic system proves that without regular movement you truly are sitting in your own bodily wastes – a revolting thought.
The Lymphatic System: A Simple Description
The lymphatic system is a series of organs, vessels and nodes that transport lymph throughout the body. Lymph is a clear liquid containing white blood cells that fight infection. It is very similar to plasma found in the blood. Together with the circulatory system, the lymphatic system works to remove wastes from the body.
About 90% of cellular waste is picked up and removed by the blood returning to the heart via veins. The remaining 10% is left to the lymphatic system to remove. This includes excess fluid, dead blood cells, pathogens, cancer cells and toxins – all things you definitely don't want left building up in your body. The lymphatic system has its own set of vessels similar to the circulatory system.
The vessels that pick up the cellular waste are called lymphatic capillaries. They move the lymph (and wastes) through progressively larger vessels until it reaches the subclavian veins at the base of the neck and re-enters the blood stream as plasma. While the lymph travels through the body it passes through lymph nodes of which there are about 600. Each filters the lymph fluid and contains white blood cells that kill pathogens.
Unlike veins, however, the lymphatic system isn't helped along by a beating heart – it has no pump and relies on muscular movement to continue working efficiently.
Why Exercise Is Critical To Detoxification
This means that if you don't exercise – run, jump, walk, do weights, dance, stretch and move – your lymphatic system is not removing toxins. You are swimming in your own waste and probably feeling less than healthy.
Another awesome reason to get active and exercise.
If you would like more information or some help getting started or perfecting your exercise routine, feel free to contact us at rudi.m@ca.rr.com – we're happy to answer your questions about fitness and exercise.
If you enjoyed this article, get email updates (it's free).
We live in a time of fast-paced change, a time of science and technology advancing with mind-boggling speed. While this offers many benefits, there is also cause for concern for many people especially when it comes to food.
What Kind of Food?
Ideally we want to eat healthy, whole foods so our bodies get all the nutrients they need to stay youthful, fit and strong. Many people try to eat organic food and avoid overly processed food, trans fats and genetically modified foods despite being told that "a calorie is a calorie" and it doesn't matter where it comes from. The truth is (if you feel like doing this experiment) you feel so much better physically and mentally when you eat good, honest food instead of super-processed fast food stuff.
Californian Food Labeling Fight
In California the fight is on to have genetically modified food labeled as such (it's amazing this should even be something people would have to fight for; the right to know what they're eating) with a push from organic food advocates to vote "Yes to Proposition 37″. We'll have to wait and see how that goes but it's interesting to note that companies such as Monsanto, and PepsiCo (companies known for their support of genetically modified foods) have raised around $25 million to oppose Proposition 37.
Know What You're Eating
In the mean time there is an easy way you can at least determine what kind of fresh produce you are buying and eating (let's face it, an apple doesn't come with a barcode – yet). It's called the PLU, or Product Lookup code. You know those pesky little stickers on apples? Each one has a 4 or 5 digit code and each code tells what the item is, its type, its size, where it was grown and how it was grown.
Some Easy Tips:
If the first digit is a "9″, the produce was grown organically.
If the first digit is an "8″ the produce was genetically modified.
If the first digit is a "0″ or it's simply a four-digit number, the produce was conventionally grown.
Here's a useful link to get more information about the PLU codes of the fruit, vegetables, herbs and nuts you want to know more about: http://plucodes.com/search_wizard.aspx?s=1. It's one way you can take more control over what you eat.
If you enjoyed this article, get email updates (it's free).
I came across a recipe in the Hopewood cookbook the other day for spicy lentil soup. I made a few alterations because I didn't have all of the ingredients and came up with what I'd say is the BEST lentil soup I've ever eaten. This opinion was backed up by my son and husband and the soup was gone within a day. Luckily it's easy to make so I can whip it up again without too much fuss.
The good news is that it's low in fat and a good protein source for vegetarians (and anyone else who likes clean healthy food). The other good news is that it isn't complicated to make – I'm the kind of cook who likes to keep things simple. We tried it over quinoa for a heartier meal and it worked very nicely.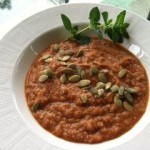 INGREDIENTS:
1 large onion diced finely
4 large cloves of garlic diced finely
3 large carrots diced finely
4 celery stems diced finely
2 teaspoons ground cumin
1 teaspoon olive oil
1 cup of lentils (doesn't really matter what kind)
8 cups of vegetable stock (you can pick this up at grocery stores if you don't happen to make it yourself)
1 850g (30 ounces) can of tomatoes (try for one without added salt)
1 tablespoon of tamari (I used a teriaki sauce and it was great)
2 tablespoons of tomato paste
METHOD:
Put the lentils in a container to soak while you do the next step.
Heat a large pot and add the olive oil then add the onions, garlic, celery, carrots and cumin. Stir until onion is soft.
Drain the water off the lentils and rinse them well then add them to the pot
Add the can of tomatoes and vegetable stock
Turn down the heat and allow to simmer for about 45 minutes (test the lentils to make sure they're soft).
Add the tamari (or teriaki sauce) and the tomato paste and stir.
You can either blend the soup a bit (with a regular or a hand blender) or leave as-is. Blending it makes a thicker consistency, it depends on how you like your soup. Serve with toasted pumpkin seeds and, like we did, over quinoa for a wholesome, hearty and really yummy meal.
If you enjoyed this article, get email updates (it's free).