Looking for a unique healthy breakfast that doesn't include cereal, sugar or toast? I created these yummy Pepped-up Sweet Potato Pancakes one day when I had some leftover baked sweet potatoes and I felt like something more substantial for breakfast than eggs on their own but I didn't want to indulge in the empty calories of toast to fill me up. They are colorful, gluten-free and easy to make. I hope you enjoy them.
This recipe makes 2 servings
Ingredients for Pepped-up Sweet Potato Pancakes
1 medium baked sweet potato, skin on (I usually bake several sweet potatoes at a time and have them ready to use in the refrigerator)
3 whole eggs
2 tablespoons almond meal (you can make this yourself by popping almonds into a blender and pulsing them until they look like course flour)
2 tablespoons crumbled feta cheese (I used light feta from Trader Joe's but any good feta will do)
A couple of handfuls of arugula (rocket lettuce)
Method
Crack the eggs into a bowl and beat them with a fork, add the almond meal then chop the sweet potato and mash it into the egg mix. Stir until everything is well combined. Stir in the feta and arugula.
Heat a frying pan to a medium heat (not too hot or your pancakes will burn), use a little olive oil or a smear of butter then spoon in the sweet potato pancake batter to create cakes about 4 inches in diameter (too large and they are difficult to flip). Flip them once they are firm on the bottom and make sure they cook on both sides.
Serve with a little low fat Greek yogurt, season as you see fit. Delicious!
Here's the back story of how I came up with my Super Powered Raw Oatmeal recently.
While on a quest to go sugar-free and wheat-free I faced the problem of what to eat for a fast breakfast that didn't include bread of any kind. I wanted something healthy, organic, and preferably uncooked. I also wanted a healthy balance of protein, fiber, carbs and fats. The other very important factor; it had to be fast food. Fast food in terms of taking very little time to prepare, because we usually have about ten minutes to eat in the mornings.
I found what I was looking for:
Super Powered Raw Oatmeal
This recipe makes 8 servings so you only have to put it together once, then store it in the refrigerator for use at breakfast time throughout the week.
Ingredients
2 cups organic steel cut oats
2 cups organic light coconut milk
1 tablespoon organic chia seeds
1 teaspoon vanilla essence
1 teaspoon ground nutmeg
1 teaspoon ground ginger
Toppings:
1/8 cup dried cranberries
1 scoop whey powder, or other protein powder depending on your preferences (I use Standard Process Whey protein Complete). You could substitute this for 1/2 cup of almond, hemp, rice or other milk
1/8 cup raw almonds
Method
Make the super powered raw oatmeal the night before you need it. Put all of the ingredients (not including the toppings) in a glass container and mix well. You want to make sure the spices are well distributed. Put a lid on the container (the snap-lock containers work really well for this) and pop it in the fridge.
In the morning, use a butter knife and divide the super powered raw oatmeal into 8 equal servings and then spoon out your serving. Add the toppings (you can get inventive here, these are just my suggestions) and enjoy your healthy fast food breakfast.
Total Calories
With protein powder it is about 230 calories. With almond milk instead of protein powder it is about 220 calories. Not only healthy, but low in calories as well.
A few weekends ago I was at a dinner party thrown by our friend Shei Lu. It was a lot of fun, not only because of the great company, but also because Shie Lu had us help her in the kitchen.
That night I learned how to make two new dishes. One, fresh spring rolls, a healthy appetizer. The other, (chocolate ganache), not as healthy although it's super delicious and a great accompaniment to raw strawberries (which are very healthy).
Great For Bodybuilders and Dieters
Each spring roll nets you about 60 calories so they are great if you're trying to lose fat. Bodybuilders out there could substitute a couple of these for rice as a taste treat to break up the monotony. You'd probably want to skip the sauce as it does contain sugar and go easy on the sesame oil and soy sauce in the vermicelli noodles.
Low Calorie Spring Roll Recipe
Here's the recipe for spring rolls (I added tofu but you could make it with vegetables alone (which is how we made it with Shei Lu) or you could replace the tofu with cooked and peeled shrimp (or prawns for the Aussies out there).
INGREDIENTS:
1 package of clear edible rice paper (I found a good supply at my local Korean market)
1 package of firm tofu (I used the Trader Joe's organic sprouted tofu) cut into rectangles about the size of a little finger
1 bunch of fresh cilantro (or coriander for the Australians) finely chopped
2 cucumbers sliced into straws (julienne)
1 large carrot sliced like the cucumbers
1 mango peeled, de-seeded and sliced like the cucumbers
1 package of vermicelli rice noodles cooked according to package directions, drained and cooled
a splash of sesame oil
a splash of soy sauce
INGREDIENTS FOR THE SAUCE:
1/4 cup rice vinegar
1/4 cup sugar
finely sliced chili
diced garlic and coriander
DIRECTIONS:
1. Add a splash each of soy sauce and sesame oil to the cooked and drained rice vermicelli noodles, toss until noodles are all covered evenly and set aside
2. Dip a round of rice paper into a flat pan of clean water. Let it soak until it's soft then with both hands carefully lay it on a clean surface
3. On one edge, lay some chopped cilantro then place a rectangle of tofu (or some shrimp) and some carrot, cucumber and mango then the vermicelli noodles on top
4. Roll the rice paper wrapper, tucking in the sides until you have a neat package that doesn't fall apart. Lay it on a serving dish
5. Continue with this until you have used your ingredients. If you have left overs, cover and refrigerate to make more spring rolls later.
FOR THE SAUCE:
Put the rice vinegar into a bowl along with the sugar. Beat until the sugar is fully dissolved then add the chili, garlic and cilantro
Serve the spring rolls with the sauce to dip. Don't expect to store left-overs as they tend to go hard in the refrigerator. They really are best freshly made.
For added fun, have your guests help with making their spring rolls.
I hope you enjoy them as much as we did.
If you enjoyed this article, get email updates (it's free).
Whenever I am asked to bring a dish to a party or gathering I always bring my kale salad. It's become quite well-known in various parts of Los Angeles and I have people asking for the recipe every time they try it because it not only looks fabulous, it tastes amazing! So amazing that most people want second helpings.
Here's a dish that is as good for you as it looks and tastes. One you can pig out on to your heart's content and never feel guilty.
Tracey's Terrific Kale Salad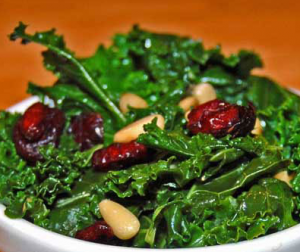 SALAD INGREDIENTS:
1 bunch of fresh, organic kale. Remove the stems then clean  and slice
1/3 cup of dried cranberries
1/3 cup of toasted pumpkin or sunflower seeds or toasted pine nuts
2 organic Roma tomatoes cut into wedges
DRESSING INGREDIENTS:
1/8 cup good olive oil
1/8 cup organic cider vinegar
1 teaspoon honey
Salt and pepper to taste
METHOD:
Put the salad ingredients into a salad bowl. Put the dressing ingredients into a bottle and shake vigorously to blend.  Add the dressing to the salad at least a hour before serving (this is one salad that gets better the longer you leave the dressing on it) then toss to combine everything.
Serve it up and watch as everyone happily gobbles it up then asks for the recipe (send them to our website to save yourself the trouble of writing it down).
If you enjoyed this article, get email updates (it's free).
I came across a recipe in the Hopewood cookbook the other day for spicy lentil soup. I made a few alterations because I didn't have all of the ingredients and came up with what I'd say is the BEST lentil soup I've ever eaten. This opinion was backed up by my son and husband and the soup was gone within a day. Luckily it's easy to make so I can whip it up again without too much fuss.
The good news is that it's low in fat and a good protein source for vegetarians (and anyone else who likes clean healthy food). The other good news is that it isn't complicated to make – I'm the kind of cook who likes to keep things simple. We tried it over quinoa for a heartier meal and it worked very nicely.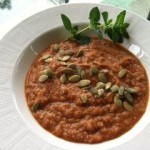 INGREDIENTS:
1 large onion diced finely
4 large cloves of garlic diced finely
3 large carrots diced finely
4 celery stems diced finely
2 teaspoons ground cumin
1 teaspoon olive oil
1 cup of lentils (doesn't really matter what kind)
8 cups of vegetable stock (you can pick this up at grocery stores if you don't happen to make it yourself)
1 850g (30 ounces) can of tomatoes (try for one without added salt)
1 tablespoon of tamari (I used a teriaki sauce and it was great)
2 tablespoons of tomato paste
METHOD:
Put the lentils in a container to soak while you do the next step.
Heat a large pot and add the olive oil then add the onions, garlic, celery, carrots and cumin. Stir until onion is soft.
Drain the water off the lentils and rinse them well then add them to the pot
Add the can of tomatoes and vegetable stock
Turn down the heat and allow to simmer for about 45 minutes (test the lentils to make sure they're soft).
Add the tamari (or teriaki sauce) and the tomato paste and stir.
You can either blend the soup a bit (with a regular or a hand blender) or leave as-is. Blending it makes a thicker consistency, it depends on how you like your soup. Serve with toasted pumpkin seeds and, like we did, over quinoa for a wholesome, hearty and really yummy meal.
If you enjoyed this article, get email updates (it's free).
INGREDIENTS:
1/2 cup non-fat cottage cheese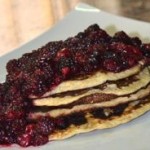 1/2 cup oats
2 eggs
pinch of cinnamon
honey (according to your taste)
coconut oil for greasing the pan (you can go with butter for added decadence or olive oil if you want to go the unsaturated way)
frozen berries (for the topping)
low-fat Greek yogurt (for the topping)
TOPPING:
Put a cup or more of frozen berries into a saucepan. Cook on medium high and stir until the berries are warm and the juices are released to form a light syrup. Use this and some low fat Greek yogurt for a delicious topping.
METHOD:
Put the oats into a food processor and grind until powdery then add the cottage cheese, eggs, cinnamon and honey. Mix thoroughly to form a smooth batter.
Heat a pan, smear with coconut oil, butter or olive oil. Once hot, pour some batter onto the pan. When you see bubbles forming, turn the pancake over with a spatula until the other side is cooked.
Make sure your pan isn't too hot otherwise your pancakes will burn – it pays to be patient. Once you have the right temperature the pancakes cook quickly.
Serve the pancakes topped with the warmed berries and Greek yogurt for a very healthy breakfast treat.
RECIPE MAKES 4 PANCAKES
If you enjoyed this article, get email updates (it's free).