A few weekends ago I was at a dinner party thrown by our friend Shei Lu. It was a lot of fun, not only because of the great company, but also because Shie Lu had us help her in the kitchen.
That night I learned how to make two new dishes. One, fresh spring rolls, a healthy appetizer. The other, (chocolate ganache), not as healthy although it's super delicious and a great accompaniment to raw strawberries (which are very healthy).
Great For Bodybuilders and Dieters
Each spring roll nets you about 60 calories so they are great if you're trying to lose fat. Bodybuilders out there could substitute a couple of these for rice as a taste treat to break up the monotony. You'd probably want to skip the sauce as it does contain sugar and go easy on the sesame oil and soy sauce in the vermicelli noodles.
Low Calorie Spring Roll Recipe
Here's the recipe for spring rolls (I added tofu but you could make it with vegetables alone (which is how we made it with Shei Lu) or you could replace the tofu with cooked and peeled shrimp (or prawns for the Aussies out there).
INGREDIENTS:
1 package of clear edible rice paper (I found a good supply at my local Korean market)
1 package of firm tofu (I used the Trader Joe's organic sprouted tofu) cut into rectangles about the size of a little finger
1 bunch of fresh cilantro (or coriander for the Australians) finely chopped
2 cucumbers sliced into straws (julienne)
1 large carrot sliced like the cucumbers
1 mango peeled, de-seeded and sliced like the cucumbers
1 package of vermicelli rice noodles cooked according to package directions, drained and cooled
a splash of sesame oil
a splash of soy sauce
INGREDIENTS FOR THE SAUCE:
1/4 cup rice vinegar
1/4 cup sugar
finely sliced chili
diced garlic and coriander
DIRECTIONS:
1. Add a splash each of soy sauce and sesame oil to the cooked and drained rice vermicelli noodles, toss until noodles are all covered evenly and set aside
2. Dip a round of rice paper into a flat pan of clean water. Let it soak until it's soft then with both hands carefully lay it on a clean surface
3. On one edge, lay some chopped cilantro then place a rectangle of tofu (or some shrimp) and some carrot, cucumber and mango then the vermicelli noodles on top
4. Roll the rice paper wrapper, tucking in the sides until you have a neat package that doesn't fall apart. Lay it on a serving dish
5. Continue with this until you have used your ingredients. If you have left overs, cover and refrigerate to make more spring rolls later.
FOR THE SAUCE:
Put the rice vinegar into a bowl along with the sugar. Beat until the sugar is fully dissolved then add the chili, garlic and cilantro
Serve the spring rolls with the sauce to dip. Don't expect to store left-overs as they tend to go hard in the refrigerator. They really are best freshly made.
For added fun, have your guests help with making their spring rolls.
I hope you enjoy them as much as we did.
If you enjoyed this article, get email updates (it's free).
Whenever I am asked to bring a dish to a party or gathering I always bring my kale salad. It's become quite well-known in various parts of Los Angeles and I have people asking for the recipe every time they try it because it not only looks fabulous, it tastes amazing! So amazing that most people want second helpings.
Here's a dish that is as good for you as it looks and tastes. One you can pig out on to your heart's content and never feel guilty.
Tracey's Terrific Kale Salad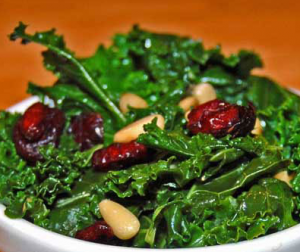 SALAD INGREDIENTS:
1 bunch of fresh, organic kale. Remove the stems then clean  and slice
1/3 cup of dried cranberries
1/3 cup of toasted pumpkin or sunflower seeds or toasted pine nuts
2 organic Roma tomatoes cut into wedges
DRESSING INGREDIENTS:
1/8 cup good olive oil
1/8 cup organic cider vinegar
1 teaspoon honey
Salt and pepper to taste
METHOD:
Put the salad ingredients into a salad bowl. Put the dressing ingredients into a bottle and shake vigorously to blend.  Add the dressing to the salad at least a hour before serving (this is one salad that gets better the longer you leave the dressing on it) then toss to combine everything.
Serve it up and watch as everyone happily gobbles it up then asks for the recipe (send them to our website to save yourself the trouble of writing it down).
If you enjoyed this article, get email updates (it's free).