Looking for a unique healthy breakfast that doesn't include cereal, sugar or toast? I created these yummy Pepped-up Sweet Potato Pancakes one day when I had some leftover baked sweet potatoes and I felt like something more substantial for breakfast than eggs on their own but I didn't want to indulge in the empty calories of toast to fill me up. They are colorful, gluten-free and easy to make. I hope you enjoy them.
This recipe makes 2 servings
Ingredients for Pepped-up Sweet Potato Pancakes
1 medium baked sweet potato, skin on (I usually bake several sweet potatoes at a time and have them ready to use in the refrigerator)
3 whole eggs
2 tablespoons almond meal (you can make this yourself by popping almonds into a blender and pulsing them until they look like course flour)
2 tablespoons crumbled feta cheese (I used light feta from Trader Joe's but any good feta will do)
A couple of handfuls of arugula (rocket lettuce)
Method
Crack the eggs into a bowl and beat them with a fork, add the almond meal then chop the sweet potato and mash it into the egg mix. Stir until everything is well combined. Stir in the feta and arugula.
Heat a frying pan to a medium heat (not too hot or your pancakes will burn), use a little olive oil or a smear of butter then spoon in the sweet potato pancake batter to create cakes about 4 inches in diameter (too large and they are difficult to flip). Flip them once they are firm on the bottom and make sure they cook on both sides.
Serve with a little low fat Greek yogurt, season as you see fit. Delicious!
Whenever I am asked to bring a dish to a party or gathering I always bring my kale salad. It's become quite well-known in various parts of Los Angeles and I have people asking for the recipe every time they try it because it not only looks fabulous, it tastes amazing! So amazing that most people want second helpings.
Here's a dish that is as good for you as it looks and tastes. One you can pig out on to your heart's content and never feel guilty.
Tracey's Terrific Kale Salad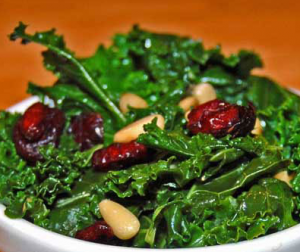 SALAD INGREDIENTS:
1 bunch of fresh, organic kale. Remove the stems then clean  and slice
1/3 cup of dried cranberries
1/3 cup of toasted pumpkin or sunflower seeds or toasted pine nuts
2 organic Roma tomatoes cut into wedges
DRESSING INGREDIENTS:
1/8 cup good olive oil
1/8 cup organic cider vinegar
1 teaspoon honey
Salt and pepper to taste
METHOD:
Put the salad ingredients into a salad bowl. Put the dressing ingredients into a bottle and shake vigorously to blend.  Add the dressing to the salad at least a hour before serving (this is one salad that gets better the longer you leave the dressing on it) then toss to combine everything.
Serve it up and watch as everyone happily gobbles it up then asks for the recipe (send them to our website to save yourself the trouble of writing it down).
If you enjoyed this article, get email updates (it's free).