Rudi has authored two books to share his fitness knowledge and help people get on and stay on the road to health and fitness for life.

The first of Rudi's books, Fit Lean Healthy, 8 Simple Steps is a step-by-step workbook with fitness concepts you won't find anywhere else. It's basically the key concepts we teach our personal training clients and is set up to get you active from the very first page.
This is a book you can take to the gym, it's not one you leave on the coffee table.
It's been a month since I got the book, started reading it immediately and didn't put it down until I finished. What made a big difference was that early in the book got me into action; it wasn't just a lot of theory, but the application part came immediately. And was very doable, put together in a perfect by step, totally right gradient. I did my first measurements after the initial ones, and was great to see that my flexibility has dramatically improved, 7 inches lost overall and really on my way to achieving my fitness goals! Ximena Smith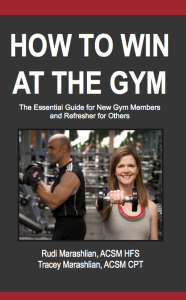 How to Win at the Gym was written after many years of helping new gym members and seeing that they have very similar questions about what they should be doing at the gym to get the best results.
If you joined the gym but you don't know where to start or what to do, you're unhappy with your progress and don't know what equipment to use (or how to use it) you probably feel a little clueless. You need to read this book.
AS AN OWNER OF A GYM, I CAN'T BEGIN TO TELL YOU HOW HELPFUL THIS BOOK HAS BEEN. INEXPERIENCED MEMBERS LOVE IT. EXPERIENCED MEMBERS LOVE IT. IT REALLY COMES IN HANDY. THERE REALLY ISN'T ANOTHER BOOK ON THE MARKET QUITE LIKE IT. Brian Prewitt