Your Physical Body – Your Vehicle for Life

There are basically three general genetic body types. You are handed a body with one of these types (or a mixture) by your parents, their parents and so on up the line. Are you large, medium or small-boned? Do you have high, low or medium fat levels or are you well-muscled? These genetic factors plus your past and current physical condition, your diet and exercise habits plus your body age play a big role in your body's overall long-term appearance, functionality and performance.
Why do you need to know what body-type you have inherited? Well knowing which one you have means you can set realistic fitness and weight loss goals based on what your body can really do and how long it may take to achieve those goals. This is key to setting realistic, attainable results.
BODY TYPE 1: THE ECTO-MORPH
(Mr. Skinny Bones)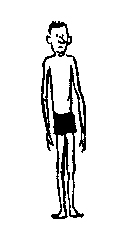 This is the small-boned, skinny person with a fast metabolism and not much body fat. Typical examples of this body type are fashion models or long-distance runners. They have no real curves, stick-like arms and legs with a similar diameter at the top and bottom of the limb.
These smaller boned people can be heard to say such enviable things as, "I eat like a horse and never put on weight." The Ecto-morph is trying to put on weight; muscle weight and is constantly fighting a tough battle to keep weight on their frames.
As this person gets older they lose muscle like all other body types so they still look thin but get softer to touch; they actually get fatter. You get the "skinny fat" person. They look thin but are carrying plenty of fat. This is accelerated if they don't participate in some strength training.
BODY TYPE 2: THE MESO-MORPH
(Mr. Muscles)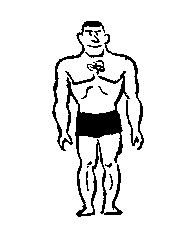 This body type is typified by medium structure with a stocky, muscular build. These bodies have a fast response to exercise. Typical examples are: sprinters, natural drug-free bodybuilders, fitness

models and gymnasts.
This body type generally responds well to strength training and exercise generally. When an exercise regime is started this body type tends to get the fastest changes, improvements and results of the three body types. Of course, age, current physical condition, past physical training and diet can retard progress. This body type can carry fat as can the other two body types.
BODY TYPE 3: THE ENDO-MORPH
(Mr. Large, Thick & Round)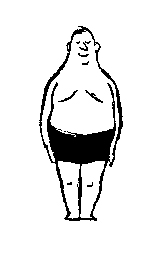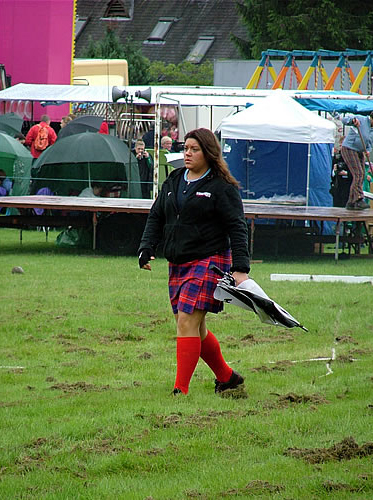 This body type tends to be large-boned with a slow metabolism. It is usually strong and can carry a lot of body fat in most cases. Examples are: a shot put athlete, a lineman or a big wrestler.
These larger boned people can be heard to say things like, " I was born overweight and I have always been overweight. If I even just look at a piece of bread I put on weight." If you look at their family tree you notice the majority of family members are large, round, heavy-set and overweight.
They have the opposite problem of the Ecto-morph (who is trying to put on weight – muscle weight and is constantly fighting a tough battle to keep weight on), the Endo-morph is constantly fighting a tough battle to keep weight off; trying to shed fat weight and keep some muscle weight.
"How Do I Determine My Body Type?
Every body has a mixture of the above three body types. To try and get an idea of what body type you can do the following exercise:
RATE YOUR BODY, NUMBERING 1 TO 7 FOR EACH OF THE THREE GENERAL BODY TYPES. 7 MEANS YOU HAVE LOTS OF THAT TYPE AND 1 MEANS YOU HAVE VERY LITTLE
Review the size of your joints: wrists, elbows, shoulders, hips, knees, ankles
Who does your body take after in the family? Mom, dad, Grandparent or other relative?
Look at your family portrait; are your family members all oversized and fat, muscular or skinny?
Using the above points, work out how much of each body type you have and put that number (remember, it's a scale of one to seven with one being very little and seven being a lot) in the space next to the body type (below).
ECT-MORPH ____ MESO-MORPHP____ ENDO-MORPH ____
The body type with the highest score is the one you have most of. Write it down in the space below.
MY BODY TYPE IS MOSTLY _______________________________________
What should you do with this information now you have it? Ideally you would contact a qualified and experienced fitness trainer who could direct you toward the exercises and dietary plans you need to attain the goals you have in mind for your body.
Contact Rudi Marashlian at www.gofitnow.com to get more information on reaching your fitness goals. He has over twenty years experience, is university qualified and certified with the American College of Sports Medicine.
- Written by Rudi Marashlian and Tracey Thatcher
If you enjoyed this article, get email updates (it's free).