The Best Kale Salad – Secret Revealed!
Whenever I am asked to bring a dish to a party or gathering I always bring my kale salad. It's become quite well-known in various parts of Los Angeles and I have people asking for the recipe every time they try it because it not only looks fabulous, it tastes amazing! So amazing that most people want second helpings.
Here's a dish that is as good for you as it looks and tastes. One you can pig out on to your heart's content and never feel guilty.
Tracey's Terrific Kale Salad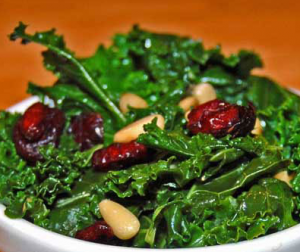 SALAD INGREDIENTS:
1 bunch of fresh, organic kale. Remove the stems then clean  and slice
1/3 cup of dried cranberries
1/3 cup of toasted pumpkin or sunflower seeds or toasted pine nuts
2 organic Roma tomatoes cut into wedges
DRESSING INGREDIENTS:
1/8 cup good olive oil
1/8 cup organic cider vinegar
1 teaspoon honey
Salt and pepper to taste
METHOD:
Put the salad ingredients into a salad bowl. Put the dressing ingredients into a bottle and shake vigorously to blend.  Add the dressing to the salad at least a hour before serving (this is one salad that gets better the longer you leave the dressing on it) then toss to combine everything.
Serve it up and watch as everyone happily gobbles it up then asks for the recipe (send them to our website to save yourself the trouble of writing it down).