Easy No-bake Brownies
Who doesn't like brownies? I LOVE them, but rarely eat them because they are usually packed with sugar and are way too fatty. That was before, now I have a brownie treat nearly every day and I'm going to share my secret with you because these little beauties are just too good to keep to myself.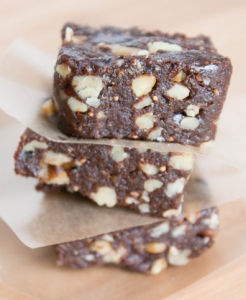 First, let me say, this recipe has no added sugar and no added fat! It's also really easy to make, taking about 15 minutes to whip together.
These brownies are packed with antioxidants and fiber. They have potassium and iron, vitamin E and omega 3 fatty acids (the healthy fats).
The recipe makes about 12 servings, each giving about 175 calories of energy and a giant mouthful of flavor.
You will need a food processor.
INGREDIENTS:
2 cups of raw walnuts
16 pitted dates (I get the the medjool dates)
1/2 cup Dutch cocoa powder (or, better yet, raw cacao powder)
1/4 cup raw cacao nibs (optional, the brownies taste great without but these add a powerful antioxidant blast)
METHOD:
Put all ingredients into the food processor in the order listed. Mix them together then press the mix firmly into a tray, cover and refrigerate for about an hour.
Cut into 12 equal pieces and enjoy with a nice cup of tea or coffee (I love rooibos tea as a caffein-free alternative).
You can keep them refrigerated for a week or so (they usually don't last any longer than that in our house). I hope you like them as much as I do.
If you enjoyed this article, get email updates (it's free).